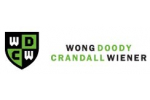 Wong, Doody, Crandall, Wiener,
Seattle
Follow
Update
1011 Western Avenue Suite 900
Seattle, Washington 98104
United States
Phone: 206 624-5325
Fax: 206 624-2369
Philosophy & Competitive Advantages
WONGDOODY is a marketing ideas agency. Traditional advertising agencies start from the default position that advertising is the answer. We start from the position that if we ask more interesting questions, we'll find the right answer. And we've married this to a core belief in the power and value of creativity that has built our reputation as one of the most innovative companies in our industry. A company that starts by addressing our clients' fundamental business challenges and solves them with creativity. Sometimes that solution includes advertising. But more often, it includes a more comprehensive view of corporate strategy, product strategy, marketing strategy and a passion for uncovering the low-cost, high-opportunity insights capable of making a profound impact on the marketplace.
Network Description
Worldwide Partners is the world's largest network of owner-operated agencies. We're a bottom-up, collaborative network focused on achieving global excellence through local effectiveness. Now, more than ever, the world is ready for the way we work. We're not held hostage by shareholders or quarterly reports so we're free to do the right thing for you as a client. Less static. Fewer headaches. More success.
Trade Organizations
Worldwide Partners (WPP)
American Marketing Association (AMA)
Seattle Advertising Federation
Seattle Chamber of Commerce
Los Angeles Advertising Federation
Los Angeles Chamber of Commerce