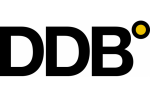 10235 101 Street Suite 1000
Edmonton, Alberta T5J 3G1
Canada
Phone: 7804247000
Fax: 7804230602
Philosophy & Competitive Advantages
It's our fundamental belief that creativity is the most powerful force in business.
We fully believe in the power of creativity to touch hearts, change minds and build brands. It's why we exist as an agency - to create surprising and original ideas that deliver tangible results.
In a world where people have become the most influential media channel, our mission is to instigate "share value". By developing ideas that consumers want to play with, participate in and pass along, we sustain lively, animated, thoughtful conversations in and around our client's brands.
Our job, as it has always been, is to give them something that they willingly want to share.
Network Description
Named Strategy's 2010 Agency of the Year and Top Creative Agency in 2011, DDB Canada is the most creatively acclaimed, internationally recognized marketing communications agency in Canada. Known for advertising that generates significant results for clients, DDB Canada is a "total communications company" whose fundamental belief is that creativity is the most powerful force in business. DDB Canada has offices in Vancouver, Edmonton, Toronto and Montreal. The agency's integrated groups include: DDB Kid Think (youth marketing), DDB Public Relations, Tribal DDB (online and interactive), Karacters Design Group, Rapp Collins (direct), Radar DDB (social media marketing) and DDB Hodes Recruitment Communications (recruitment marketing).
Local Representation
DDB Worldwide Communications Group Inc (www.ddb.com) ranks among the top five consolidated advertising and marketing services global networks, according to Advertising Age. Consistently one of the most awarded networks globally for creative excellence, DDB was Campaign's 2009 Global Network of the Year, the 2010 Spikes Asia Network of the Year, 2010 Eurobest Network of the Year, 2010 Campaign Asia Pacific Creative Network of the Year and captured both the Cyber Grand Prix and Film Craft Grand Prix at the 2010 International Advertising Festival in Cannes. With more than 200 offices in over 90 countries, the DDB Group helps grow the value and influence of leading brands around the world. DDB Worldwide is part of Omnicom Group Inc. (OMC).