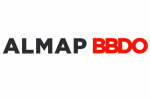 Avenida. Roque Petroni JR 999 3/5/6/7 Andares
São Paulo, Brazil 04707-010
Brazil
Phone: (+55) 11 2395-4002
Getty Images - "85 Seconds" - AlmapBBDO
85 Seconds
Getty Images
Getty Images
AlmapBBDO
Brazil
85 Seconds
Product Category
Others
Language
English
Date of First Broadcast/Publication
April 30, 2013
Media Type
Television & Cinema
Length
91 Seconds
Awards
The Intercontinental Advertising Cup (The Cup) / ICAC, 2014 (Cup Winner) for Best of Communication Media & Publications
The One Show, 2014 (Merit) for Online
The One Show, 2014 (Merit) for Online
London International Awards - LIA, 2013 (Silver) for Corporate Image
Cannes Lions International Festival of Creativity, 2013 (Bronze Lion) for Business Equipment & Services
Cannes Lions International Festival of Creativity, 2013 (Gold Lion) for Editing

unlimited stories.
Getty Images touches people in a new campaign created by AlmapBBDO.
Story
After the film "From love to bingo", created by AlmapBBDO for Getty Images in 2012 that has already won 25 awards in the main advertising festivals in Brazil and abroad, the agency accepted the challenge of continuing the campaign with the same creativity and emotion without being repetitive and now launches the commercial "85 Seconds" to divulge Getty Images' video bank. The film is composed of 105 videos that, edited in 90 seconds, tell the touching story of a couple.
To copywriter Sophie Schoenburg and art director Marcos Kotlhar, who created "From love to bingo", this year's challenge was similar to last year's. What changed was the tool. The 2012 commercial was composed of 873 pictures that, when sped up, composed a film. This year, they dove deep into an arduous research of videos. They worked on this project for over four months. "We reviewed more than 4,000 Getty Images Video clips and adapted the story as the research evolved. Sometimes we searched for something we had in mind, and other times we would find something great we weren't looking for." says the copywriter. Kotlhar explains that this time they decided to quantify the time. "If we allow Getty Images' videos from the bank play in sequence they would last two years. It's 63,103,983 seconds. It's Huge!," he says.
"85 Seconds" is the story of a couple that meets in their childhood, separate when teenagers and meet again when adults. Each one's life possibilities and the meeting are told in a minute and a half, only with a sound track, no dialogues. From beginning to end, a counter shows the seconds of the film. In the end, it accelerates until it reaches the total Getty Images videos, but in time: 63,103,983 seconds. The campaign concept signs the film: "63 million seconds of videos. Infinite possibilities."
Concept
Problem