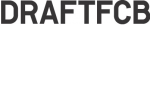 Draftfcb Greater China,
Shanghai
Follow
Update
1045 Huai Hai Zhong RD 20/F, Huai Hai Plaza
Shanghai, P.R. 200031
China
Phone: -21 2411-0388
Fax: -21 2411-0399
Philosophy & Competitive Advantages
By design, Draftfcb is an agency like no other, created to address a market need to deliver for clients: the often-elusive combination of creativity and accountability. Born from our dual heritage as a direct marketing-focused agency and a brand agency, our unique strength is the marriage of outstanding creative with very strong accountability. We don't believe that creativity and accountability can be separated in creating marketing solutions for now and the future; only the synthesis of both can drive business-building and consumer-centric work.
Network Description
Draftfcb places equal emphasis on creativity and accountability, science and art. We are made up of a diverse, passionate group of thinkers, creators, poets, artists & technologists devoted to creating brilliant ideas that change behavior. With nearly 140 years of combined expertise, Draftfcb has roots in both consumer advertising and behavioral, data-driven direct marketing. Our worldwide network now spans 151 offices in 90 countries, with over 8,000 people, and is part of the Interpublic Group of Companies (NYSE:IPG).