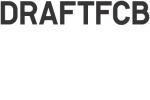 Draftfcb Auckland,
Auckland
Follow
Update
57 Wellington Street Freemans Bay
Auckland 1140
New Zealand
Philosophy & Competitive Advantages
By design, Draftfcb is an agency like no other, created to address a market need to deliver for clients: the often-elusive combination of creativity and accountability. Born from our dual heritage as a direct marketing-focused agency and a brand agency, our unique strength is the marriage of outstanding creative with very strong accountability. We don't believe that creativity and accountability can be separated in creating marketing solutions for now and the future; only the synthesis of both can drive business-building and consumer-centric work.
Network Description
Draftfcb is a global network of 150 offices in 90 countries with 9,000 employees. Our main hubs are in the most important and fastest-growing markets, including Chicago, New York, London, Hamburg, Madrid, Sao Paulo, Johannesburg, Mumbai, Shanghai and Dubai. Draftfcb is wholly owned by the Interpublic Group of Companies, a publicly traded global marketing communications services company (NYSE:IPG).