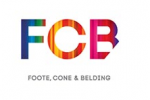 FCB South Africa,
Johannesburg
Follow
Update
164 Katherine Street
Johannesburg 2196
South Africa
Phone: 11 566 6000
Fax: 11 566 6664
Engen Retail - "Draftfcb Cape Town Drives TV Game Show For Engen" - FCB South Africa
Draftfcb Cape Town Drives TV Game Show For Engen
Engen Retail
Engen
FCB South Africa
South Africa
Drive It to Win It
| | |
| --- | --- |
| Product Category | Retail, Distribution & Restaurants |
| Date of First Broadcast/Publication | October 1, 2012 |
| Media Type | Interactive Television |
Story
Adding a different spin to the many 'win a car' promotions currently being offered by brands and retail outlets, Draftfcb Cape Town has developed a television game show to attract shoppers to the QuickShops located on Engen forecourts countrywide.
Screening weekly on eTV for 12 weeks, 'Drive It to Win It' will pit two lucky shoppers against each other; the shopper completing the fastest lap in a virtual Ford Figo will get to keep the car.
Draftfcb Cape Town managing partner, Nadja Srdic, said the promotion forms part of Engen Retail's annual drive to assist the individual QuickShops to reach their targets.
"This year, the agency was briefed to deliver a campaign that not only boosted sales, but linked it to this quarter's QuickSave Combo, a regular promotion run with the support of various QuickShop suppliers," she said.
"The challenge was to differentiate Engen's 'win a car' offer from those currently cluttering the media scene."
Added Draftfcb Cape Town creative director, Aaron Harris: "Our solution was to partner with one of the brand's key media partners and give away the 12 Ford Figo vehicles live on television.
"We went live on October 1 with our build-up communication, and will be running the 'Drive It to Win It' portion of the campaign from November 1 to January 31.
"The production company, Wishbone, did a fantastic job bringing the concept to life and we're really confident that the campaign will deliver the results Engen Retail and QuickShop are looking for."
To stand a chance of driving their way to a new car, customers must purchase any two participating QuickSave bundles and enter via their mobile phones while at the till. Each week, two potential winners will be drawn, and they will then compete against each other on the 'Drive It to Win It' simulator, live on TV. The fastest lap wins the Figo, the runner up receives a R10 000 cheque from Engen QuickShop.
The campaign comprises a 30 second television promotion spot on eTV, 12 three-minute gameshows each Thursday night (just before Rhythm City), in-store point-of-sale and digital support.