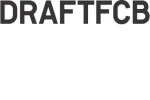 Draftfcb South Africa,
Johannesburg
Follow
Update
164 Katherine Street
Johannesburg 2196
South Africa
Phone: 11 566 6000
Fax: 11 566 6664
About Us
Draftfcb is the first global, fully integrated marketing communications agency for the digital age to operate against a single P&L without any silos. The agency is driven by a singular focus on consumer behavior as expressed by its proprietary 6.5 Seconds That Matter℠ operating system, which recognizes the importance of producing creative executions that really matter to consumers in the brief amount of time they are willing to give marketers in today's media-saturated world.
Philosophy & Competitive Advantages
Draftfcb South Africa has a reputation for building South Africa's favourite brands. That's probably because we consistently produce South Africa's favourite campaigns. Founded on ideas that truly connect with real South Africans. Ideas that solve business challenges. Ideas that win awards. Ideas that make a difference to our community, our country and our planet. Ideas that matter.
Network Description
Draftfcb places equal emphasis on creativity and accountability, science and art. We are made up of a diverse, passionate group of thinkers, creators, poets, artists & technologists devoted to creating brilliant ideas that change behavior. With nearly 140 years of combined expertise, Draftfcb has roots in both consumer advertising and behavioral, data-driven direct marketing. Our worldwide network now spans 150 offices in 90 countries, with over 8,000 people, and is part of the Interpublic Group of Companies (NYSE:IPG).