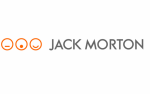 Jack Morton Worldwide,
London
Follow
Update
16-18 Acton Park Estate Stanley Gardens The Vale
London W3 7QE
United Kingdom
Phone: (+44) 02087352000
Fax: (+44) 0208 735 2020
About Us
We're an award-winning brand experience agency with 750 employees around the world.
We make brilliant things happen for our clients. We do that by bringing together brave, creative, collaborative people who are true believers in the power of experience to transform brands and businesses.
Jack's expertise: brand experience strategy and activation. We're true believers in the power of what we do > http://slidesha.re/1bWdxv9
Our clients look to us to define and understand how their brands should behave in the marketplace, and create experiences that bring their brands to life. Our portfolio of award-winning work spans 75 years and clients like GM, Subway, Samsung and Verizon in areas like event marketing, sponsorship, employee engagement, shopper and retail, sales enablement and training, digital and social.
We're part of one of the world's leading marketing holding companies, Interpublic (NYSE: IPG), and experienced collaborators with a global network of best-in-class partners