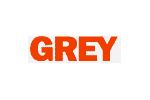 Grey Group EMEA,
London
Follow
Update
The Johnson Building 77, Hatton Street The Johnson
London EC1N8J
United Kingdom
Phone: (0)203 037 3000
Toll-Free Number: 02030373000
Fax: (0)203 037 3001
Philosophy & Competitive Advantages
Grey's "Famously Effective" reputation for launching and sustaining leading brands is rooted in the strength and success of its network on the ground in over 90 countries. Grey's blue-chip client roster contains one-fifth of all FORTUNE 500 companies and it ranks among the top global advertising agencies.
From its small, upstart beginnings in New York, Grey has grown to become the 5th largest agency network in the world, with a strong global footprint that covers 96 countries, servicing Clients through 432 offices in 154 cities.
Our 8,000 employees all share an entrepreneurial spirit, a focus on growth and a willingness to measure ourselves by our results. Entrepreneurial spirit means inspiration and perspiration. It means going the extra mile because you cannot consider the alternative.
Network Description
Grey has been part of the WPP Network since 2005. WPP is the world leader in marketing communications services groups. It comprises leading companies in Advertising; Information, Insight & Consultancy; Public Relations and Public Affairs; Branding and Identity; Healthcare Communications; Direct, Promotion and Relationship Marketing and Specialist Communications. Including the world?s largest media planning and buying operation (including digital) - Group M - as well as the world?s largest consumer insight group - Kantar As part of WPP, Grey can draw on vast resources and expertise as and when they are needed by our clients. The WPP group employs 138,000 people working in over 2,400 offices in 107 countries. The Grey network spans 123 offices in 117 cities and 94 markets worldwide. We have a fully integrated digital offering.
Local Representation
We accelerate the potential of our clients through the creation of big, bold creative ideas across all touch points.
Grey Group agencies include:
Grey (Advertising and Brand Development), G2 (Digital Branding and Design), Mediacom (Media Planning and Buying), Alliance (Entertainment Marketing), Cohn & Wolfe (Public Relations), Grey Healthcare (healthcare Marketing).
AMERICAS Argentina Atlanta Brazil Canada Chicago Chile Colombia Costa Rica Dominican Republic Ecuador El Salvador Guatemala Honduras Houston Mexico Los Angeles New York Nicaragua Panama Peru Puerto Rico San Francisco Trinidad & Tobago United States Uruguay Venezuela
EMEA Belgium Belarus Bosnia & Herzegovina Botswana Bulgaria Cameroon Croatia Congo Cyprus Czech Republic Denmark Egypt Estonia Finland France French West Africa Germany Ghana Greece Hungary Israel Italy Jordan Kazakhstan Kenya Kuwait Latvia Lebanon Lithuania Luxembourg Mauritius Moldova Morocco Netherlands Nigeria Norway Poland Portugal Qatar Romania Russia Saudi Arabia Serbia & Montenegro Slovenia South Africa Spain Sweden Turkey Ukraine United Arab Emirates United Kingdom Uzbekistan Zimbabwe
ASIA PACIFIC Australia Bangladesh China & Hong Kong India Indonesia Japan Korea Malaysia New Zealand Pakistan Philippines Singapore Sri Lanka Taiwan Thailand Vietnam
Trade Organizations
European Association of Communications Agencies (EACA)
Institute of Practitioners in Advertising (IPA)
Marketing Society (MS)