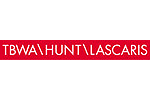 TBWA\Hunt\Lascaris,
Sandton
Follow
Update
3 Sandown Valley Crescent Sandown
Sandton, South Africa 2146
South Africa
Phone: (0)11 322 3100
Fax: (0)11 322 3177
Creative Development:

24.1%

Production:

4.4%

Account Services:

27.2%

Media:

7.0%

Marketing, Research & Strategic Planning:

3.5%

Administration:

11.0%

Others:

22.8%
Number of Employees: 334
Reg Lascaris
Co-founder TBWA\Hunt\Lascaris-Reg. Dir. Af,ME,Med.
Phone: 11 322 3100
reg.lascaris@tbwa.co.za
Reg founded Hunt Lascaris with John Hunt in 1983, with the aim of becoming the first world-class communications group out of Africa. TBWA\Hunt\Lascaris has now grown to be South Africa's premier advertising agency and has been judged 'Agency of the Year' five times over the last six years. In May 2000, TBWA\Hunt\Lascaris was named 'Agency of the Century' by Financial Mail Adfocus in South Africa.

Reg is a member of the British Institute of Marketing Management and one of 14 main board members of TBWA Worldwide. He is responsible for the Africa, Middle East and Mediterranean regions. Reg is co-author of five best selling books: "Third World Destiny," "Communicating in the Third World," "Revelling in the Wild," "Fire & Water," and most recently "The South African Dream."
James Porter
Regional Operations Director TBWA\ Africa
Phone: 031-267-6600
James spent 5 years overseas where he obtained the following experience: Product Launches and Promotions UK ? (Marketing & Sales); Property Development ? Spain (Marketing & Sales); Texas Gulf Oil and Gas ? Canada (Exploration) and Royal Office Equipment USA (Marketing & Sales). In 1970 James returned to Zimbabwe where he was the Sales Manager for Nicholas Laboratories International. Recognition resulted in being transferred to SA to open and develop a new division of the company. This unit was responsible for contact, control and development of the ?new? wave of Supermarkets and Cash & Carry operations.

In 1974 James returned to Zimbabwe as General Manager. In 1976 he was promoted to Managing Director for Nicholas Laboratories Rhodesia where he was responsible for all Central African territories. In 1980 James was transferred to SA as Marketing Director responsible for Southern Africa and the development of SE Asia. In 1981 he joined Bates Wells Kennedy as an Account Director. In 1983 he was appointed as General Manager and subsequently Managing Director in the same year.
Marie Jamieson
Chief Executive Officer
Phone: 011-322-3100
Marie joined TBWA\Hunt\Lascaris in 1993 and has been head of Strategic Planning in the Johannesburg agency since 1995. Her experience spans a cross-section of all market categories and consumer sectors, from top end to bottom end, from youth to family, from mainstream to attitude.
Sandra deWitt
Creative Director
Phone: 011-322 3100
Sandy joined TBWA\Hunt\Lascaris 15 years ago - when it was still a small creative hot shop. Working on accounts such as BMW, City Lodge and Schweppes. As well as collecting numerous awards both locally and internationally, Sandy has also won the coveted Cannes Gold Lion for BMW "Mercury" and Aspro "Wake Up".
Dris Naidoo
New Business Director
Phone: 011 322-3377
Dris joined TBWA\Hunt\Lascaris in 1990. Her experience spans the following as strategic planner: AIDS, ANC, Brand SA, Exclusive Books, LG Electronics. As New Business Director: South African Tourism, South African Broadcasting Corp.,ANC, MINI, SA Airways.
Sue Walker
Connections Director
Phone: 011-322-3100
Sue is the Executive Media Director at TBWA\Hunt\Lascaris. Over the past 17 years she has gained experience across retail, FMCG goods, service industries, government business and media accounts. Her current clients include BMW, Standard Bank, Nando's, Nashua and Tiger Brands. In 2000, she was the first South African invited to judge the newly introduced Cannes Lion Media category. A highlight of her career was winning a Media Gold Lion at Cannes in 1999.
Qualified as CA (SA) in 1996 after completing articles with Ernst & Young. Joined the TBWA Group in October 1996 as financial director of DDB SA (now TBWA Gavin Reddy) to consolidate the activities of Bates SA and The White House into DDB SA. Assumed responsibility of regional controller for TBWA\Africa\Middle East in late 200. Appointed to position of regional financial director for same region in mid 2001.
Mohale has excelled as an entrepreneur and is a seasoned transformational business leader. He is currently the Executive Chairman of DraftFCB SA having previously worked at Old Mutual Emerging markets as Marketing Communications and Corporate Affairs Director on the Old Mutual Emerging Markets Exco responsible for brand, marketing, customer segmentation and value propositions design [CVPs] and market engagement across SA, Africa, Colombia, Mexico and India and China. Before then He was the Managing Executive for Absa Private Bank, a multi-billion rand business and served as a member of the Absa Retail Bank Exco and Absa Wealth Steering Committee. He joined the ABSA group in 2008 as the Group Executive responsible for group marketing and was a member of the Absa Business Bank and Absa Retail Bank Exco's [ARCB]. He was formerly an investor in and the Executive Chairman of The Jupiter Drawing Room (Jhb) as well as the CEO of MSG Rimani which owned a controlling interest in Jupiter. As executive chairman, he was pivotal to the transformation of Jupiter into a large agency breaking new business records that more than doubled the business winning an unprecedented 1,1billion ZAR in new business during 2006. He was part of the team that concluded a multi-million dollar deal with WPP in 2008 to take Jupiter global. During this time, he also co-founded and co-funded Metropolitan-Republic, a new age advertising firm that's part of the Jupiter stable. He had joined the Jupiter Drawing Room from the Liberty Group where he was the Group Executive: Marketing, where he served on the Liberty Marketing and Distribution Exco and Liberty Group Executive Forum. He had joined the Liberty Group from TBWA\ South Africa, a diversified globally aligned marketing communications group, where over a 4 and a half year period he served as Group Development Director TBWA\South Africa Group and before then Deputy MD for TBWA\HUNT\LASCARIS Johannesburg. During his tenure Mohale led the group's strategy, transformation, business development and new business initiatives that delivered strategic growth for the TBWA\ group.
An 18 year career in Financial Services, advertising and marketing rescued him from a promising career in academia and research which started in the US in 1991 and ended at UCT in 1995 where he was studying towards a Masters in Industrial Sociology [competitive strategy]. Mohale is a seasoned strategic marketer and has worked on and driven strategy development for a number of leading international and local brands in the Beverages, FMCG, Financial Services, ICT, Tourism, social marketing and Broadcasting sectors including numerous product and company launches. 
Richard Duncan
Managing Director Cape Town
Phone: 021-464 4300
Richard joined TBWA\Hunt\Lascaris Cape Town as their new MD in Dec. 2001. Richard has a track record as a "change agent" and has a unique mix of Client and Agency experience. Richard's experience has been with brands such as Procter & Gamble, McDonald's and Mercury Communications in the UK and Engen Petroleum and the Spur Group in South Africa. His career has given him experience in a wide array of industries - Packaged Goods, Retail, B2B, Financial, Investments, Communications, Leisure, Travel, Broadcast, Publishing, NGO/charities and Manufacturing.
David began his marketing career at SmithKline Beecham working on brands such as Aquafresh, Eno and Lucozade. He joined TBWA\Hunt\Lascaris as a strategic planner in 1995 working on a range of accounts such as BMW, SA Druggists, Nabisco, Nampak and Standard Bank. Then Client Service Director on Standard Bank, LandRover SA and Bic. He now is MD of T1 which handles the SA Tourism account and MINI SA.
Nicky Lascaris
Human Resource Manager
Phone: 011 322-3100