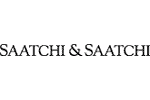 Saatchi & Saatchi,
London
Follow
Update
80 Charlotte Street
London W1A 1AQ
United Kingdom
Phone: (+44) 020 7462 7130
Fax: (+44) 020 7637 8489
Philosophy & Competitive Advantages
Saatchi & Saatchi create ideas that get the nation talking. Why? Because we believe that brands are built by conversations and not communications. The conversations that take place between real people and fundamentally affect the performance of your business. Our fully integrated offering helps us improve the value of those conversations by any means necessary from commercials that invade popular culture to an impromptu serenading at Terminal 5.
Network Description
We currently have 140 offices within the Saatchi & Saatchi Worldwide Network. The way in which we service our international clients varies from brand to brand, our aim is to echo our clients organisational structures to ensure the creative process is as efficient as possible, this may mean working via a central hub or via our local offices. Saatchi & Saatchi Network is based in 80 countries, across Europe, the Americas,Africa, Asia Pacific.
Trade Organizations
Institute of Practitioners in Advertising (IPA)