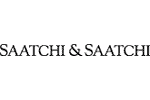 Saatchi & Saatchi,
London
Follow
Update
80 Charlotte Street
London W1A 1AQ
United Kingdom
Phone: (+44) 020 7462 7130
Fax: (+44) 020 7637 8489
Del Campo Saatchi & Saatchi named Best Agency by the Círculo De Creativos Argentinos
December 6, 2012
For the sixth consecutive year, Del Campo Saatchi & Saatchi has been named Best Agency of the Year at El Diente, the festival organized by the Círculo de Creativos Argentinos.
Lead by Pablo del Campo and General Creative Directors Maxi Itzkoff and Mariano Serkin, the agency won a total of 34 awards, including 2 Grand Prix for "Dads in Briefs" (BGH Air Conditioners) and "Musical Microwaves" (BGH Microwaves). They also walked away with 14 Gold, 8 Silver, and 10 Bronze, with work developed for BGH, Norte Beer, Andes Beer, and Schweppes.