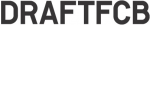 Draftfcb,
Paris
21 rue de Berri
Paris 75008
France
Phone: 01 41 06 75 00
Fax: 01 5874 9081
Country Phone Code: 33
Philosophy & Competitive Advantages
Sans point de vue, pas d'idée.Sans idée, pas de point de vue.
Network Description
Draftfcb is a global network of 150 offices in 90 countries with 9,000 employees. Our main hubs are in the most important and fastest-growing markets, including Chicago, New York, London, Hamburg, Madrid, Sao Paulo, Johannesburg, Mumbai, Shanghai and Dubai. Draftfcb is wholly owned by the Interpublic Group of Companies, a publicly traded global marketing communications services company (NYSE:IPG).
Trade Organizations
Institut de Recherches et d'Etudes Publicitaires (IREP)
Association pour le Développement des Techniques de Marketing (ADETEM)
Association des Agences Conseils en Communication (AACC)