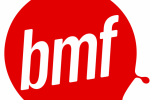 BMF,
Pyrmont
Level 2 63 Miller Street
Pyrmont, New South Wales 2009
Australia
Phone: 2 9552 7000
Fax: 2 9552 7060
Country Phone Code: 61
Philosophy & Competitive Advantages
At BMF you will find one diverse team, under two roofs (Sydney and Melbourne), with one process and one bottom line.The magic at BMF is that people from different disciplines treat each other as peers. And with over 200 people, each person can learn and grow from the other's skill sets. At the heart of it all, driving everyone, is the simple desire to create work that people talk about and respond to.
Network Description
Channel planning & media buying, Communication strategies, CRM strategies, Data planning & analytics, Digital consulting services, Information architecture & usability, Marketing sciences, Research, Social media planning & management, Direct marketing, Integrated campaign development, Online content development, Online display, Print/press, Promotions & experiential, Radio, SMS & email marketing, TV, Website design, New product development, Brand & corporate design, Brand architecture, Service brand development, Art studio, Film/radio production, Finished art, Illustration, Photography, Print/poster production, Printing, Talent & associated costs, Typesetting, Typography.
Local Representation
CEO - Jeremy Nicholas - jeremy.nicholas@bmf.com.au
Managing Partner - Stephen McArdle - stephen.mcardle@bmf.com.au
Managing Partner - Ricci Meldrum - ricci.meldrum@bmf.com.au (BMF Melbouren)
Business Development - Alex Caredes - alex.caredes@bmf.com.au
Press & Media - Tommasina Panebianco, PR Manager - tommasina.panebianco@bmf.com.au