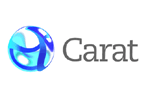 Carat France,
Courbevoie
Follow
Update
4, place de Saverne Cedex
Courbevoie 92971
France
Philosophy & Competitive Advantages
Creativity and innovation:
Innovating and creative solutions integrating the Strategic Planning department and the 360° media reflexion.
"Carat is the leading media agency in the development of non-conventional media specialization" (cf. RECMA - October 2002)

Efficiency and expertise:
A prospective vision on the media, a unique analysis of media/products relationships and of efficiency, with the first expert center of medias in France and structures specialised in media-marketing and modelling.
"Carat has the most complete range of tools and data bases of the market" (cf. RECMA - April 2003)

Independence and Leadership :
Carat is the first independent consulting group of media and media buying with 24.1% of market share in France (cf. RECMA - september 2003).
Network Description
1st indepedent worldwide group, european leader and 5th worldwide group of communication , present in 63 countries, with 32 agencies in Europe, 14 in America, 14 in Asia & Middle East and 2 in Oceania.
Local Representation
6 commercial structures for customized consulting
- Carat Expansion
- Carat 2010
- Carat SPFD
- Carat AEA
- Cyclades Carat
- Carat MCI
They coordinate the whole of the media recommendations but also all the operations of optimisation and purchases made by specialized teams. This organisation insures the advertisers the independent and confidential flavour of the given advice and of the realised operations.

Carat leans also on a whole of shared resources in the Aegis Media at an administrative, legal, data-processing, control of management level... (150 collaborators)

Media Extension : in addition to its original expertise in the traditional media, Carat develops specific skills in the interactive and local media, the sponsorship, the events, the media marketing, the advertorial, the publishing of luxury magazine, the programming and the production, the direct answer, the target marketing (age groups) and ethical marketin (290 collaborators).
Trade Organizations
Centre d'étude des supports de publicité (CESP)
Institut de Recherches et d'Etudes Publicitaires (IREP)
Médiamétrie
Union des Entreprises de Conseil et Achats Média (UDECAM )
Club de Recherche Tous Médias (CRTM)