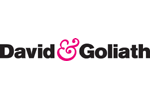 David&Goliath,
El Segundo
Follow
Update
909 North Sepulveda Boulevard 7th Floor
El Segundo, California 90245
United States
Phone: 310 445-5200
Fax: 310 445-5201
Philosophy & Competitive Advantages
Everyone has a Goliath. A challenge or obstacle that keeps you from realizing your true potential. Goliaths can take many forms. It can be a competitor, a sales goal, or a mountain you want to climb. At David&Goliath, we're an entity designed to take on Goliaths. Our approach stems from solving problems by thinking like a David. Being nimble, resourceful, creative, and brave. It is this collective belief that is engrained in everything we do and enables us to inspire others to do the same.
Network Description
We have an extensive track record in developing innovative marketing solutions that outmaneuver the competition and get immediate results. We often find ourselves working with challenger brands and collaborate with them to think big and develop campaigns that impact the category regardless of budget or size or business. And we work with brands that are leaders in their respective categories, but look to challenge convention and continue to redefine success.
Local Representation
Managing Partners:
David Angelo, Chairman and Chief Creative Officer
Colin Jeffery, Managing Partner/Executive Creative Director
Brian Dunbar, Managing Partner/Director of Client Services