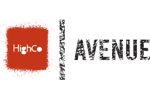 HighCo Avenue,
Paris
8, rue De La Rochefoucauld CS 30500 Cedex 09
Paris 75427
France
Phone: 01 77 75 65 65
Fax: 01 77 75 65 22
Country Phone Code: 33
Philosophy & Competitive Advantages
THE POWER OF A BIG, THE AGILITY IN MORE. " The announcers expect from the high-level advice, wish to see the managers, need being reassured, consider that the advice has to join a global vision in term of operationnels and relational devices. " Source: study Balletser on 2005 Kagency360 leans on his DNA (the transversalite of the experience of the Marketing Services) and on his way of thinking (Blue Cat or the search (research) for the singularite as the source of performances of campaigns), to bring a simple, pragmatic response : - expert business unit by technics for a strategic vision has 360 and one coherence of the speeches : marketing services, interactive, publishing, public relations, event and motivation. - short business unit (less than 40 collaborators) with a senior manager, expert in his trade, for council top niveau. -integreted business unit to built devices has 360 while being autonomous on the management of their wallet customer. -optimised business unit in terms of costs to ensure has their customers an economic competitiveness.
Trade Organizations
Association des Agences Conseils en Communication (AACC)
UJJEF