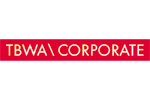 TBWA\CORPORATE,
Boulogne-Billancourt
Follow
Update
50-54, rue de Silly Cedex
Boulogne-Billancourt 92513
France
Phone: 01 49 09 25 25
Fax: 1 49 09 26 26
Philosophy & Competitive Advantages
Citizens, consumers, shareholders, co-workers or futur co-workers, partners, journalists, elected officials or association's militants : more than ever companies and institutions have to act on heterogeneous publics, autonomous and interdependent at the same time. The communication's choices -strategic and tactic- determinate the identity, the reputation as well as the relation capital of an organisation. Then it is to serve in a better way its clients in a more and more complexe world, that TBWA\Corporate made the choice to mix the will of stake and publics integration, in the strategies and action plans with a work appraise for all its publics.
Network Description
We are present in 69 countries with 151 agencies worldwide : 96 agencies in Europe, 18 in the Americas, 12 in Africa, 22 in Asia and Middle-East and 3 in Oceania
Local Representation
TBWA\Corporate Lyon : Corporate and HR communication subsidiary
\ALS&Cachou (Toulouse) : Corporate communication
\Nouvelle Vague (Nantes) : Global communication agency
\Cachou (Bordeaux) : Trade marketing
Jump (Lille, Lyon) : Global communication agency
Trade Organizations
Gibory Consultant
Association des Agences Conseils en Communication pour l'Emploi (ACCE)
Association des Agences Conseils en Communication (AACC)