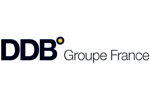 DDB Groupe France,
Paris
Follow
Update
55, rue d'Amsterdam Cedex 08
Paris 75391
France
Phone: 01 53 32 60 00
Fax: 01 53 32 65 04
Philosophy & Competitive Advantages
In today's advertising marketing is more demand, more fragmentation, more points of contact, more pressure and more diversity amongst citizens/individuals/consumers who interact with brands and their companies. All that creates a complexity and a superficiality in the relationship between brands and their consumers and the misunderstandings between advertisers and their agencies. Faced with these challenges, at DDB, we count on the talent of those who work in the agencies of the group and with our clients. Because it is by working together more and better, by daring to be wary of conventions, organisations, systems, and responsibilities, that we succeed in coming up with powerful communication solutions which in turn create profound and enterprising brands.
Network Description
We are present in 96 countries, with 102 agencies in Europe, 54 in the Americas, 11 in Africa, 40 in Asia & Middle and 4 in Oceania.
Trade Organizations
Association des Agences Conseils en Communication (AACC)