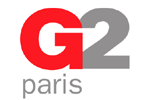 G2 Paris,
Boulogne Billancourt
Follow
Update
63 Bis, rue de Sèvres Cedex
Boulogne Billancourt 92514
France
Phone: 01 46 84 85 00
Fax: 01 46 84 00 18
Philosophy & Competitive Advantages
L'agence méchamment efficace
Network Description
G2 has got 86 offices in 42 countries around the world. The network sits in New York, under Joe Celia, Global Chairman CEO's direction. Clients include : Adobe, The Coca-Cola Company, Procter Gamble, The absolut Spirits Company, Kodak, Nokia, GlaxoSmithKline, MArs, Kraft, Pfizer ans Voswagen. G2 is a partner company of Grey Global Group and part of the WPP Group.
Trade Organizations
Association des Agences Conseils en Communication (AACC)
IREP