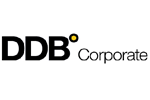 DDB Corporate,
Paris
55, rue d'Amsterdam Paris Cedex 08
Paris 75391
France
Phone: 01 53 32 53 32
Fax: 01 53 32 53 34
Country Phone Code: 33
Philosophy & Competitive Advantages
Parce que les idées fortes génèrent toujours les meilleurs résultats, la plate-forme de conseil et de pilotage Corporate du Groupe DDB conçoit et met en oeuvre des stratégies et des systèmes de communication globale qui allient créativite et interconnexion entre tous les métiers. DDB Corporate s'appuie sur des équipes décloisonnées et des expertises nourries de tous les univers de la communication et sur l'ensemble des ressources publicitaires de DDB Paris, en particulier le planning stratégique, la création, les campagnes web, le conseil média, la production print / online et audiovisuelle.
Network Description
Our international pole keeps a regular contact with the whole of DDB international network. Centralized from France or multilocale coordination. Other networks : Ketchum (public relations) and gavin Anderson (financial communication).
Local Representation
- publishing, corporate press, - multimedia (Tagaro !),
- events (DDB Live),
- PR/ crisis communication (Ketchum),
- financial communication (Gavin Anderson),
- in-house communication (Com'in),
- health professionals communication (DDB Ciel & Terre),
- online and offline relational marketing (Rapp Collins Paris)
- visual identity (Interbrand)
Trade Organizations
Association des Agences Conseils en Communication (AACC)
Association des Professionnels pour une Publicité Responsable (ARPP (ex BVP))
Union des Journaux et des Journalistes d'Entreprise de France (UJJEF)
SYNTEC Public Relations
Association Design Communication (ADC)
Conseils & annonceurs associés
National Syndicate for Special Events Agencies (ANAé)
Association Française de Communication Interne (AFCI)