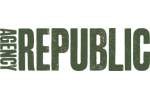 Agency Republic,
London
Follow
Update
1 Battersea Bridge Road The Glassmill
London SW11 3BZ
United Kingdom
Phone: 0207 942 0000
Fax: 0207 942 0040
Philosophy & Competitive Advantages
POSITIONING
Republic offers award-winning digital creative, planning and media strategy, with a focus on making a fundamental difference to our clients' businesses. We create online ads, microsites, websites, interactive content, viral clips, applications and emails.

PARTICULAR STRENGTHS
Whilst the disciplines of strategic thinking and creativity will always be at the core of Republic, we've never seen digital as merely a discipline but an constantly evolving series of enabling technologies. Understanding these technologies and the consumer behaviours they engender is what we do best.
Network Description
Republic is owned by Omnicom and is part of Omnicom's digital specialist network
Local Representation
Republic Family. Our sister agencies cover iTV, mobile, marketing technology software and PR. As part of Omnicom, we have access to specialist resource in more than 100 countries. Omnicom is the world's most respected and awarded marketing services group.
Trade Organizations
Institute of Practitioners in Advertising (IPA)