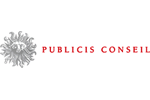 Publicis Conseil,
Paris
Follow
Update
133, Avenue des Champs-Elysées
Paris 75380
France
Phone: 01 44 43 70 00
Fax: 01 44 43 75 25
Philosophy & Competitive Advantages
To build the future of a brand is to succeed in creating the most intimate, strongest and most inimitable relationship between the brand itself and everyone of us. In order to become an integral part of our daily life, culture, dreams. This is the mission that we entrust ourselves on each brand for which we are responsible.
Network Description
Publicis Worldwide is present in 87 countries and belongs to Publicis Groupe SA which is the 4th communication group worldwide
Local Representation
Annecy, Bordeaux, Besançon, Brest, Clermont-Ferrand, Concarneau, Lille, Lyon, Marseille, Metz, Montpellier, Nancy, Nantes, Nice, Paris, Rennes, Strasbourg and Martinique
Trade Organizations
Association des Agences Conseils en Communication (AACC)
Association des Professionnels pour une Publicité Responsable (ARPP (ex BVP))
Centre d'étude des supports de publicité (CESP)
Institut de Recherches et d'Etudes Publicitaires (IREP)
VT Scan (ex Vidéothèque)
Diffusion Controle / OJD (OJD)
IPSOS Médiamétrie (IPSOS)
Gibory Consultant
BVA (BVA)
Forrester