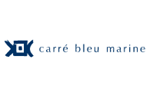 DDB° Live,
Paris
55, rue d'Amsterdam Cedex 08
Paris 75391
France
Phone: 01 53 32 56 56
Fax: 01 42 81 15 40
Country Phone Code: 33
Philosophy & Competitive Advantages
The squared imagination. Faster, stronger, a quasi militant approach of the creative efficiency. The event communication must make a name for itself through its unique ability to generate conclusive results in record time. To keep this "squared power" promise towards which received ideas have not their place, the Carré Bleu Marine dynamics is based on 4 indivisible, active and constantly merged principles : springboard event (original model of creative strategy), co-create event (charter of mutual commitment towards purposes), scoring event (modular offer of results measure at the end of the event), knowledge event (transversal platform of research and monitoring entirely dedicated to event communication).
Network Description
Carré Bleu Marine works in synergy with all DDB Group specialized agencies, in France and worldwide depending on the projects
Trade Organizations
AACC - Evénementielle