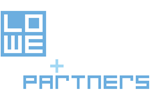 Lowe and Partners,
London
Follow
Update
60 Sloane Avenue
London SW3 3XB
United Kingdom
Phone: (+44) 20 7584 5000
Fax: (+44) 20 7823 8429
About Us
Lowe and Partners is a global network of distinctive diverse agencies, rich in local culture with both intimacy and scale. We come together when and where you need us, as a nimble community of strategic and creative collaborators. Our clients call it 'reach without compromise.'
We like building powerful ideas that engage the many, not the few. It's the greatest service we can offer a client, creating an enduring, popular idea that solves a business problem, crosses channels and changes behavior on and offline. We call our ability to shape and share engaging ideas Populist Creativity.
Lowe and Partners is consistently ranked among the most awarded agency networks in the world. In addition to multiple local, regional and global creative awards, 33 Lions - including 10 gold - were won at the 2014 Cannes Lions International Festival of Creativity. Among the Lions won in 2012, was the coveted Titanium Lion presented to Lowe SSP3 for their 'Rivers of Light' campaign for the Colombian Ministry of Defense. The same campaign also won a D&AD Black Pencil. In 2013/2014 Lowe and Partners took home over 100 Effie awards, and has now topped the annual Effie index, in terms of points per dollar revenue, for the past four years running.
Lowe and Partners is a full service advertising agency. In addition to over 90 agencies in more than 65 markets, we have a global network of partners offering expertise in specialist areas:
Lowe Profero transforms the experience of brands across all digital platforms
Lowe Open shopper agency bringing ideas to life in the retail space
Lowe Counsel cultural insight and marketing analysis consultancy
ICC Lowe one of the largest and most influential networks in the healthcare communications industry
Trade Organizations
Mirren