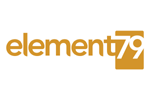 Element 79,
Chicago
200 East Randolph Street
Chicago, Illinois 60601
United States
Phone: 312 233 8100
Fax: 312 233 8298
Country Phone Code: 1
Philosophy & Competitive Advantages
Founded in 2001, Element 79 is a part of Omnicom Group, Inc. A streamlined, highly efficient advertising agency, we create business building brand idea platforms for our clients. Specializing in executing these ideas in both the digital/online arena and via traditional media, we are fully committed to helping our clients win by providing better creative solutions in a simpler, faster fashion. Element 79 has the management expertise, experience and discipline of a large multinational agency, yet we operate with the flexibility and efficiency of a small one. We use a "decision maker to decision maker" development process, assigning a senior business partner and a senior creative partner to a client's business. Together, with our client, this team makes all strategic and major executional decisions on the advertising, resulting in better work at a lower cost and at a faster pace. While our agency itself has a brief history, our people do not. Our management team averages 23 years in the business. We have worked, individually and on teams, on hundreds of major international, national, regional and local brands.
Trade Organizations
American Association of Advertising Agencies (AAAA)