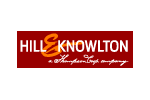 Hill & Knowlton,
Levallois-Perret
Follow
Update
155, rue Anatole France Cedex
Levallois-Perret 92593
France
Phone: 01 41 05 44 00
Fax: 01 41 05 44 01
Philosophy & Competitive Advantages
These days companies need more value from their agency as they struggle with more complexity, change and confusion than ever before. They have to face increased internationalisation, an untrusting financial community, more demanding customers, smarter and more questioning employees and a cynical public.
Hill & Knowlton's commitment to its clients is to resolve these tough challenges - conquering difficult markets, advancing the social agenda, building or defending reputations, facilitating change and resolving conflicts.
Because of our knowledge of the audiences and of the influent systems, we deliver powerful, compelling communication strategies, which enable us to achieve real results with measurable outcomes.
Trade Organizations
Association des Agences Conseils en Communication (AACC)
VT Scan (ex Vidéothèque)
Gibory Consultant
SYNTEC Public Relations