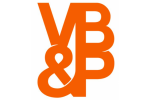 Venables Bell & Partners,
San Francisco
Follow
Update
201 Post Street
San Francisco, California 94108
United States
KATIE COURIC IS A FAN.
December 19, 2011
Yes, that Katie Couric. As it turns out, Ms. Couric is quite the fan of our work for Audi, specifically our most recent holiday-themed commercial promoting the Season of Audi. She appeared on The Tonight Show With J. Leno and credited the spot with influencing her to buy her mom a new Audi A4 for the Christmas, and then proceeded to recite it by memory. Thank you, Katie, we're flattered.