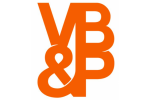 Venables Bell & Partners,
San Francisco
Follow
Update
201 Post Street
San Francisco, California 94108
United States
VB&P ON THE AIR.
February 7, 2012
This week our very own Paul Venables and Lucy Farey-Jones had television appearances on ABC news, talking about the Super Bowl. Watch Paul here and Lucy here. As you'll see, the camera loves them.
Additionally, Paul, "I hang out with Jerry Seinfeld," Venables appeared on KGO radio with Ronn Owens to talk about the game. Listen to Paul's thoughts about Sunday's ads here.