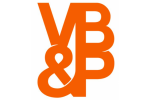 Venables Bell & Partners,
San Francisco
Follow
Update
201 Post Street
San Francisco, California 94108
United States
TEAM BEANSIE.
May 13, 2012
This year, 85 VB&P staffers woke up early on a Saturday morning and marched Chrissy Field to raise money for the March of Dimes. In total, our "Team Beansie," captained by Paula Venables, raised almost $13,000 along the charming 6 mile stroll and had a lot of fun in the process. Pictured here is our Team T-shirt designed by the very talented Blake Bäkken.