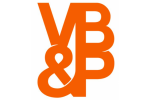 Venables Bell & Partners,
San Francisco
Follow
Update
201 Post Street
San Francisco, California 94108
United States
MEAT. WITHOUT THE MEAT.
September 11, 2012
Welcome to the wonderful world of Lightlife, where you can enjoy a hearty, satisfying meal – without eating meat. Created with renowned animation house, Laika, and set to a recreation of the classic children's song, "Old Macdonald Had A Farm," this stop-motion animation piece explores a ranch where the animals aren't quite what they seem.