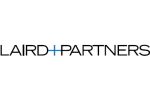 Laird+Partners,
New York
475 10th Avenue
New York, New York 10018
United States
Phone: 212 478-8181
Fax: 212 478-8180
Country Phone Code: 1
Philosophy & Competitive Advantages
We believe that great brands move you.
They make you feel something. And they make you do something.
L+P leverages the power of style and design to move consumers

.
Style & Design:
- are increasingly important currency for brands across categories
- have become pop cultural force

Network Description
A London office slated to open in 2012