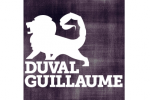 Duval Guillaume,
Antwerp
Follow
Update
Uitbreidingsstraat 2-8
Antwerp 2600
Belgium
Phone: (+32) 36090900
Fax: (+32) 36090919
About Us
A creative agency adapted to the digital era helping brave brands to do the same. Duval Guillaume is part of the Publicis Groupe.
Philosophy & Competitive Advantages
We create work that is loved by the public, and admired by the industry. This philosophy leads to more social currency. We do this for international clients such as Smirnoff Europe, Center Parcs Europe, Coke Zero Europe and Carlsberg Europe.
Network Description
Duval Guillaume focusses on creativity & strategy. It is working for national and international clients. 80% of them are own clients, 20% are clients shared with the Publcis Groupe.