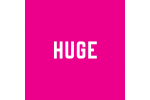 45 Main Street, Suite 220
Brooklyn, New York 11201
United States
Phone: (+1) 718-395-6080
Fax: (+1) +718 625 5157
About Us
Huge is a full-service digital agency that provides business strategy, design, marketing and technology services to some of the world's largest businesses and best-known brands. The company is known for successfully harmonizing user needs and business goals to create industry-changing digital experiences for its clients. Huge has offices based in the United States, Europe and Latin America, and is part of the Interpublic Group of Companies. For more information, visit www.hugeinc.com.
Philosophy & Competitive Advantages
Huge redefines what's possible for the world's most ambitious brands. We make things people love.