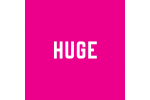 45 Main Street, Suite 220
Brooklyn, New York 11201
United States
Phone: (+1) 718-395-6080
Fax: (+1) +718 625 5157
HUGE and TED Turn the World INSIDE OUT
March 2, 2011
BROOKLYN – French street artist JR, winner of the 2011 TED Prize, announced his wish today: for people everywhere to stand up for what they care about by participating in a global art project and together turn the world INSIDE OUT.
TED came to HUGE last December with the initial idea for the project. Over the past two months, HUGE has worked to execute a launch that would coincide with JR's announcement of his monumental project, INSIDE OUT, which aims to become the largest participatory art project ever and, in the process, discover, reveal and share the untold stories and images of people everywhere. 
HUGE completed strategy, design and build pro-bono for the online home of INSIDE OUT,insideoutproject.net. People around the world are encouraged to upload black and white photographic portraits, personal statements and a story to the site and take part in the project. Participants—or co-creators—are then guided through the process of receiving a 90cm x 135cm poster of their portrait, which they can paste and exhibit wherever they'd like in their communities.
"The beauty of JR's work is that it provokes a social conversation – and the digital space is a wonderful medium to amplify those conversations, forging deeper connections between the participant and the artist, giving the conversation more energy and awareness," said Nicole Victor, Director of Planning atHUGE. 
Soon after the initial launch, INSIDE OUT will become a dynamic way to experience the project as it evolves, with a homepage that allows users to explore the many faces of the world through a unique tagging system. Visitors will also be given the option to purchase posters for themselves or even those who cannot afford them, as well as see where the portraits live. 
HUGE is proud to support both TED and JR as they get people active in their communities in a meaningful way and prove that art can indeed change the world.