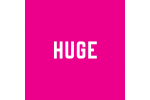 45 Main Street, Suite 220
Brooklyn, New York 11201
United States
Phone: (+1) 718-395-6080
Fax: (+1) +718 625 5157
Maybelline Receives a HUGE Makeover
January 29, 2011
BROOKLYN – The number one cosmetic brand in the world, Maybelline worked with HUGE to create a digital presence that reflects its reputation for innovation and provides a go-to beauty solution for women seeking inspiration and instruction.
HUGE delivered strategy, design and development for a sleek new Maybelline.com based on Maybelline's brand identity, launching a platform featuring streamlined navigation, user-initiated sharing and dynamic video.
The new Maybelline.com provides users with the tools and lessons to help them realize their beauty potential. The new site features a cutting-edge product explorer that inspires users to dive deep into Maybelline's vast inventory, with features such as vivid photos, pinpoint filters and real-time search updates turning the hunt for that perfect shade of mascara or lipstick into a fun, easy and highly interactive experience.
The products are now also supplemented with a collection of how-to videos, one of a number of new editorial verticals introduced to drive lasting engagement and repeat visits. Another, NYC365, offers daily photos of real women on New York streets alongside makeup tips and product suggestions to achieve the unique look.
More than a commerce portal, the new Maybelline.com provides a vibrant destination for consumers to engage with the brand in a fashion that improves their lives each and every day. HUGE will continue to work with Maybelline to define the future of makeup online and will release more innovative features and products throughout the upcoming year.