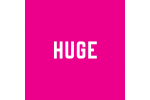 45 Main Street, Suite 220
Brooklyn, New York 11201
United States
Phone: (+1) 718-395-6080
Fax: (+1) +718 625 5157
Lowe & Partners Names HUGE Preferred Digital Partner
March 24, 2011
LONDON – Lowe & Partners has selected HUGE, America's fastest-growing digital agency, as preferred digital partner in a global partnership, announced today. The arrangement will see the two companies work together to promote Unilever brands around the world, beginning with household cleaning brands Cif and Sunlight in Europe, the Middle East and Africa, Latin America and Asia.
Responsible for some of the most acclaimed digital marketing programs in recent history and web platforms that generate more than $12 billion a year for their clients, HUGE has a proven commitment to execution and building digitally led businesses. The agency has been featured on Advertising Age's A-List for two years running and was named Social Agency of the Year by OMMA Magazine for its work on the Pepsi Refresh program in 2010. Prominent clients include IKEA, PepsiCo, JetBlue, Target, Under Armour, Reuters, HBO, Mattel, Saab and Italo.
The arrangement underscores Lowe's commitment to digital innovation and HUGE's ongoing expansion into European, Latin American and Asian markets.
"We're incredibly excited to partner with Lowe to help Unilever advance their leadership in the digital space and provide digital solutions for consumers," said Aaron Shapiro, HUGE's CEO. "Lowe's company values and their commitment to creating lasting relationships are a great match with our own."
Michael Wall, CEO Lowe & Partners, added, "HUGE is a world-class digital agency that builds long-term, innovative digital platforms for their clients. The combination of their capabilities and Lowe's global presence and brand advertising leadership will provide Unilever a formidable ability to deliver best-in-class work in every region."
HUGE is part of the Interpublic Group of Companies and operates as an independent agency in partnership with Lowe on Unilever worldwide.