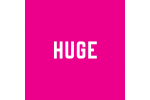 45 Main Street, Suite 220
Brooklyn, New York 11201
United States
Phone: (+1) 718-395-6080
Fax: (+1) +718 625 5157
Adult Swim Gets Mobilized
February 17, 2011
BROOKLYN – Adult Swim, the leading purveyor of edgy and cerebral cartoons for grown-ups, launched its flagship app today for the iPhone, iPad and iPod Touch. The new app helps promote Adult Swim's popular original games and expand viewership of its innovative programming, giving both devotees and casual viewers the ability to stream content anytime and anywhere.
HUGE completed design and build for an app experience that captures the brand's quirky reputation and standing as one of the most-watched television networks overall by adults aged 18 to 34. Users can enjoy thousands of full-length episodes and clips of crowd-pleasing Adult Swim shows, including Robot Chicken, The Venture Bros, Aqua Teen Hunger Force, Tim and Eric Awesome Show Great Job and Childrens Hospital. They can also download the network's wildly successful games such as Amateur Surgeon and Robot Unicorn Attack.
"We didn't want to publish just another video app," said Jeff Olsen, Vice-President of Adult Swim digital and games. "We've got great content and a very savvy audience. We wanted something fun and original that was worthy of them both."
The app immerses users in the idiosyncratic world of Adult Swim through dynamic layouts, while also providing unexpected features like a clock, a calculator, weather information, wallpapers and an interactive programming schedule so fans never miss their favorite shows. As an added bonus, intrepid users can discover an assortment of amusing "Easter eggs" while exploring the app. A sharing function also provides shortened share.as links to easily post content across personal and social channels.
HUGE previously worked with Adult Swim in 2007, delivering a new, dramatically simplified template system for its much-loved shows.
The app is currently available for free download here and is updated with new content weekly. An Android version will be released in the near future.