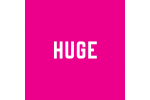 45 Main Street, Suite 220
Brooklyn, New York 11201
United States
Phone: (+1) 718-395-6080
Fax: (+1) +718 625 5157
HUGE Named Best Agency for Social Media
December 22, 2010
BROOKLYN — HUGE's work in social media will be recognized at the OMMA "Agency of the Year" awards in January 2011. 
The inclusion of HUGE in MediaPost's list of standout agencies caps a year in which HUGE proudly partnered with Pepsi to launch the biggest breakthrough in social media marketing of 2010: The Pepsi Refresh Project. 
Hailed as one of the most important brand efforts of the year and responsible for helping improve the lives of more than a million people in 2010 alone, the Pepsi Refresh Project epitomizes HUGE's approach to marketing and to social media which focuses on creating platforms for continuing and meaningful engagement between brands and their customers.
Learn more about the Pepsi Refresh Project and HUGE's social media capabilities.