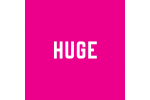 45 Main Street, Suite 220
Brooklyn, New York 11201
United States
Phone: (+1) 718-395-6080
Fax: (+1) +718 625 5157
Mattel Grows Partnership with HUGE
November 18, 2010
LOS ANGELES – Mattel is expanding its partnership with HUGE's new Audience Monetization Division to help monetize its properties through the sale of display advertising, content integrations and sponsorships. The Mattel family of sites welcomes over 8.9 million unique visitors each month, and was recently ranked #2 in total audience for entertainment-kids sites.[1]
Formed this past August, the partnership allows Mattel to fully integrate relevant brands throughout their prime content, and has already produced advertising deals with Disney, Microsoft, Nintendo, General Mills, Scholastic and PBS for Mattel properties such as Barbie.com, HotWheels.com and the newly launched MonsterHigh.com. Veering away from the antiquated ad network model, the new outbound advertising aligns key brands with site-specific content. 
HUGE's A. David Shapiro, Vice President of Audience Monetization, leads this effort. A former VP of Digital and Mobile for TV Guide, Shapiro has a proven track record as a digital sales leader, leveraging his deep knowledge of the digital industry to produce winning advertising solutions for Mattel and a growing roster of current and new clients. The Audience Monetization Division makes it as facile as possible for clients to generate new revenue streams through their existing digital presence, as well as to develop strategic ways to create new areas for monetization in content ranging from videos to games to social applications. 
"We're able to leverage the insight and knowledge from digital strategy, design, development and user experience that are our core competencies within HUGE to create the strongest possible advertising environments for brands within digital content," says Shapiro, who is rapidly growing the department, based out of the HUGE Los Angeles office. "With this new division, HUGE is not only defining how a digital platform should be designed and structured to optimize advertising opportunities, but delivering the sales strategy and partnerships to best capitalize on the platform.
1. ComScore, October 2010.