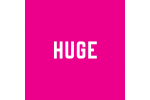 45 Main Street, Suite 220
Brooklyn, New York 11201
United States
Phone: (+1) 718-395-6080
Fax: (+1) +718 625 5157
HUGE Sweeps At OMMA Awards
September 28, 2010
BROOKLYN — HUGE won four prizes at the 2010 OMMA Awards, including Best in Show for Integrated Online Campaign for the Pepsi Refresh Project. HUGE Design Director Felipe Memoria accepted the award at the gala in New York, thanking the client, partners, team and, most importantly, the users.
The Pepsi Refresh Project also took home the title for Best Integrated Online Campaign in the Non-Alcoholic Beverage category. With its success and sustained popularity, Pepsi recently announced plans to extend the groundbreaking marketing platform for social good to Europe, Asia and Latin America in 2011. Thus far, the program has accumulated 42 million votes on over 7,500 submissions.
Reuters.com and History.com were honored for Web Site Excellence in the News/Politics and Non-News Entertainment: TV categories, respectively. The redesigned Reuters.com delivers all the news and content that time-strapped business professionals need to know through a dynamic, highly customizable interface. History.com was praised by OMMA for "refocusing the cable network's web presence from an emphasis on show promotion to a destination" where "users can search a vast database for articles, videos and photos on historical topics - all connected via a newly custom-tailored taxonomy."
The new AlvinAiley.org was also nominated for Web Site Excellence in the Charity/Non-Profit Organization category. HUGE Creative Director Claudia Chow served as an industry judge and presented the award for Best in Show in Online Advertising Creativity.
The OMMA Awards recognize those who push the boundaries of creative work, and each year honor the very best in online media, marketing and advertising.