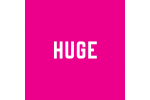 45 Main Street, Suite 220
Brooklyn, New York 11201
United States
Phone: (+1) 718-395-6080
Fax: (+1) +718 625 5157
Penton Releases New Vision for B2B Sites
September 9, 2010
BROOKLYN — Penton Media, one of the world's leading B2B media companies, relaunched nine websites this week, each reengineered to better deliver on its promise to disseminate the vital content that moves markets. The releases represent the first step of a larger, company-wide strategy by Penton to translate its authority in print to digital, unify its extensive network of brands online as well as transition many of its B2B sites to the new, content-driven platform over the coming months.
HUGE completed strategy and build for the platforms, collaborating with Penton over the past year to create business-transforming resources that would not only capitalize on its massive influence across multiple industries, but drive revenue through new opportunities for advertising and sponsorships. Months of customer research and a full evaluation of editorial workflows were integral to the overhaul, after which HUGE developed a content strategy that was more intuitive and relevant for the professionals visiting the site, allowing them to analyze and compare products as well as access important reference, training and how-to materials.
"You might say that we started from scratch – except for the rich content we already own – knowing that our goal was to attract more users, make the user experience more robust, and have a much more modular component architecture that enables editors to introduce new features," Sharon Rowlands, CEO of Penton Media, explained. "The work takes us from the legacies of magazines' companion sites to providing full-fledged Web-first products.
The new sites for Delta Farm Press, Southeast Farm Press, Southwest Farm Press and Western Farm Press feature enhanced navigation, fresher content and plenty of interactive media like blogs, videos, podcasts and webinars. Five other properties are set to launch in the coming weeks, including Farm Industry News, Corn and Soybean Digest and National Hog Farmer.
"These redesigns are far from being merely cosmetic; they have been designed to serve readers, who will be able to quickly access relevant content and solve business problems," said Rowlands. Nino Tasca, Penton's vice president of Internet technology added, "We have changed the functionality so that there is a better relationship between the user and the content. As Penton continues to launch the other sites within our vertical markets, we will leverage that relational data so both our advertisers and readers have a superior digital experience."
With these sites and those to launch in the near future, Penton is redefining the marketplace for B2B media sites, delivering the essential tools, analysis and news that help professionals solve business problems and grow their enterprises.