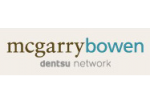 601 West 26th Street Suite 1150
New York, New York 10001
United States
Phone: 212 598 2900
Fax: 212 598 2996
A Posthumous Appearance
February 15, 2013
The other week the digital strategy team at mcgarrybowen attended Google Creative Sandbox, along with a handful of industry professionals. It was a great day, full of inspirational speakers, exciting demos, and of course – lots of swag! Here's our take.
"A Posthumous Appearance": Ed Ulbrich, Digital Domain
"Getting to watch thousands of people's minds blown at the same time is a pretty amazing experience."
Whether you are a rap fan or not you without a doubt heard about the miraculous resurrection of the late great Tupac Shakur at this past years Coachella music festival. The realism of the "Tupac Hologram" caused many to wonder how this great tech-feat was possible. Fortunately, Ed Ulbrich, of Digital Domain, let us in on how it was done and also how it may change the way we attend concerts forever.
What he said: Digital Domain, the company behind the Tupac hologram, had previously worked on two human-like digital copies that many of us have seen before. The first was the age reversing old man in The Curious Case of Benjamin Button, and the second was a young-faced Jeff Bridges in the futuristic movie TRON. Both required huge leaps in a never before seen technology that lead to create a one-of-a-kind performance at Coachella. These two previous trails allowed for the technology to reach a level to realistically reproduce anyone. By combining this technology with an idea to reproduce one of the greatest rap stars of all time at one of the nations largest music festival created a first of its kind performance that blew the minds of all those in attendance.
The creation of Tupac was an example of the powerful impact that being the first has. Tupac was not the first digital recreation, but he was the first to be displayed in such a way that the digital technology faded away and all that was left was nothing short of a fantastic illusion that left people scratching their heads in amazement.
This revolution in the ability to bring back musical legends who have past away has stirred quite a conversation around the choice of who to bring back as well as the ethical and moral guidelines that should be put in place for doing so. To think you could soon be attending a show put on by The Beatles, Elvis, or even Michael Jackson.
What we heard: The breakthrough in this technology is nothing short of science fiction, and it brings with it some heavy questions on how we can use this technology in the future. For instance, we could potentially create a digital star who tours the world but never really existed in the first place, or we could bring back some of our founding fathers to give students a deeper connection of learning about some of histories most famous individuals.
The possibilities are truly endless and we are curious to see how this breakthrough technology will impact our lives in the upcoming future.