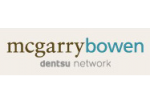 601 West 26th Street Suite 1150
New York, New York 10001
United States
Phone: 212 598 2900
Fax: 212 598 2996
Try Small More Often
February 13, 2013
The other week the digital strategy team at mcgarrybowen attended Google Creative Sandbox, along with a handful of industry professionals. It was a great day, full of inspirational speakers, exciting demos, and of course – lots of swag! Here's our take.
"Try Small More Often": Iain Tait, Google Creative Lab
"…baking humanity into digital art, advertising and media."
Is there a way to guarantee a creative hit? Perhaps not but Iain Tait believes that there is a possibility to increase our chances by throwing out old marketing models and mimic a new one that allows us the chance to capitalize on more opportunities.
What he said: To illustrate this idea he showed a slow wave curve that had infrequent peaks and deep troughs. Many marketers approach ideas in this fashion, putting a lot of time and work behind something hoping that they create a "big hit," but the problem with this model is that we have to wait an extended period of time before we can get a chance at another opportunity, often times leaving us too late to act on what is happening now.
Iain believes that we can increase our chances of something catching on by trying small and trying more often.
What we heard: Often the process of producing get in the way of producing the object itself and it is important to take in the variable of time when making something BIG.