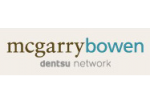 601 West 26th Street Suite 1150
New York, New York 10001
United States
Phone: 212 598 2900
Fax: 212 598 2996
Google Glass: Less is More
February 25, 2013
The other week the digital strategy team at mcgarrybowen attended Google Creative Sandbox, along with a handful of industry professionals. It was a great day, full of inspirational speakers, exciting demos, and of course – lots of swag! Here's our take.
"Google Glass: Less is More": Isabelle Olsson & Ed Sanders, Project [X]
"We wouldn't be working on it if we didn't feel it could transform the world."
Ed Sanders, Head of Marketing for Google[x], and Isabelle Olsson, Google[x]'s lead designer discussed the transformational shift this augmented technology of Google Glass will have on the world as we know it.
What they said: The unique, wearable device emerged from the principle that technology should not be disruptive. Instead, it should work for you when you need it and get out of your way when you do not. Since April 2012, Ed and Isabelle's team worked tirelessly to develop prototypes in efforts to finally master Google's ambitious pair of Internet-connected spectacles. Co-founder of Google, Sergey Bergin, models the eye wear in the video below.
What we heard: With just a blink of an eye or the movement of a certain gesture, the new form of computing allows users to instantly surf the internet, interact with contacts, navigate their immediate surroundings and beyond. While Google Glass is packed full of features and technological conveniences, one question continued to surface amongst conference attendees. Will people actually wear these and how long will it take for society to adopt such technology into everyday life? Sergey simply answers, "We wouldn't be working on it if we didn't feel it could transform the world."