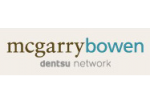 601 West 26th Street Suite 1150
New York, New York 10001
United States
Phone: 212 598 2900
Fax: 212 598 2996
The Next Frontier: NASA & Android
February 22, 2013
The other week the digital strategy team at mcgarrybowen attended Google Creative Sandbox, along with a handful of industry professionals. It was a great day, full of inspirational speakers, exciting demos, and of course – lots of swag! Here's our take.
"The Next Frontier: NASA & Android": Jasper Wolfe, NASA
"…how the simplest of technologies can be used for powerful ends"
Controlling a satellite from the palm of your hand? Sounds a little too James Bond to be true, but NASA is doing exactly that, proving that technology in your pocket is more powerful than a spaceship. Google Sandbox hosted an exclusive with NASA's Japer Wolfe, who shared how the agency is using Android to open up space exploration and how the simplest of technologies can be used for powerful ends.
The result is a new cost efficient satellite is made from a smartphone.
What he said: NASA uncovered smartphones already have most of the features that a satellite needs, from fast processors, built-in cameras, to multiple sensors. Instead of building a custom system from scratch they decided to experiment with the Android Smartphone.
What we heard: Innovation today is not always about creating something new, but harnessing the successes of existing technology. It not only reduces the costs of building platforms and products but facilitates a much less expensive way to experiment with the unthinkable. This is what Googlers today are calling "hacking."
We've been trained to believe launching anything into space would cost thousands or millions of dollars, when in reality most of us already own the device that could not only withstand that atmosphere, but take pictures and play music while doing it.