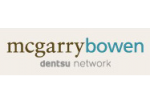 601 West 26th Street Suite 1150
New York, New York 10001
United States
Phone: 212 598 2900
Fax: 212 598 2996
Strike a Chord, Build a Bass
February 18, 2013
The other week the digital strategy team at mcgarrybowen attended Google Creative Sandbox, along with a handful of industry professionals. It was a great day, full of inspirational speakers, exciting demos, and of course – lots of swag! Here's our take.
"Strike a Chord, Build a Bass": Joe Sabia, CDZA
Most people have heard of the early 90′s sensation, Ace of Base. But has anyone heard of the Aces of Bass? The Creative Sandbox attendees plus another 103,667 YouTube subscribers to the CDZA channel have and enjoyed every 2 minutes and 20 seconds of it. In just 7 months, Joe Sabia's CDZA crew (shortened from Collective Cadenza) released quirky, biweekly "musical video experiences" that are hacking culture as we know it.
What he said: Joe shared how one YouTube channel backed by passionate people can inspire international audiences and breathe an irreverent type of life into the performing arts. Their mission is to invent the largest digital home for a new breed of conservatory-trained musicians, however the strategy behind it serves as fodder to brand marketers everywhere. Joe includes three essential ingredients in his approach to his artistic experiments:
1. Pure fun.
2. Pure spontaneity.
3. Pure curiosity.

What we heard: As the people of CDZA began to weave these components into the musical creations, their videos started spreading like wild fire. Conference attendees wanted to know what Joe's secret was to igniting such a powerful musical movement. He answered, "I always ask what people can best relate to with the CDZA content." His secret to success: Strike the chord of relevancy with consumers and amplify it with creativity.