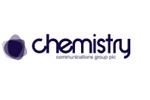 Chemistry Communications,
London
Follow
Update
158 Hurlingham Road Melbray Mews
London SW6 3NG
United Kingdom
Phone: 0207 736-5355
Fax: 0207 384-1800
Philosophy & Competitive Advantages
A specialist CRM agency, Chemistry helps its clients to build lasting and profitable relationships with their best customers. From sophisticated data analysis to brand planning, through to leading edge creative communications Chemistry delivers across multiple channels.
Network Description
We are members of their global network. Based on a franchise principle 120 agencies with offices in over in 70 countries. It covers independent agencies across all the main marketing disciplines.
Trade Organizations
Direct Marketing Association Ltd. (DMA)
Institute of Sales Promotion (ISP)