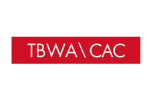 TBWA\Central Asia & Caucasus,
Almaty
Follow
Update
83, Tole Bi street
Almaty, Kazakhstan 050000
Kazakhstan
Phone: 727 259 89 23
Fax: 727 259 89 25
Philosophy & Competitive Advantages
TBWA\CAC manages in a variety of marketing disciplines, including advertising, customer relationship management, sales promotion, direct marketing, brand strategy, media planning\buying, public relations and specialty communications. We believe that our core competence is a providing of high-quality services to market leaders and building partnerships relations.
Network Description
Today TBWA\ operates more than 258 offices in 77 countries, and has a global workforce of more than 12 000 employees. Today we are working on ABSOLUT, adidas, Apple, Ararat, Arla Foods, BEKO, Chivas, Efes, Ernst & Young, GSK, Jameson, Henkel, Kcell, Martell, Michelin, Nissan, Olmeca, Rakhmet Tea, Savola Foods, Shell, Shymbulak, Schwarzkopf, Turkuaz Group and VISA.
Local Representation
In 2008-2011 thanks to support of our clients, TBWA\CAC considered as the most awarded creative agency in Kazakhstan: over 85 awards and nominations at Golden Drum, Clio, Golden Hammer, Red Apple, Kyiv Fest, AdVision, AdStars, EPICA, White Quadrate, and the only the Advertising Agency in Central Asia that published year-by-year in prestigious advertising catalogue Luerzer's Archive.