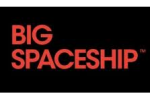 Big Spaceship,
Brooklyn
Follow
Update
45 Main Street Suite 716
Brooklyn, New York 11201
United States
Philosophy & Competitive Advantages
Since Big Spaceship launched in 2000, we've had a front row seat to the rapidly evolving technologies, platforms and habits that make up the digital age. We challenge each other to stay flexible and efficient, constantly iterating our processes as we grow.
No one has creative in their title – creativity is the cost of entry. Everyone contributes, everyone has ideas and everyone has a voice.
Our Team Structure
In 2008, we organized into teams (as studied by the Harvard Business School). Instead of sitting by discipline, we set up shop the same way we produce our work — small groups that are encouraged to develop their own efficiencies and allow all voices and perspectives to be heard. Rather than cascading information from one department to another, a team comprised of each of our four disciplines – strategy, design, technology and production – works on an engagement from beginning to end. By bringing all of our knowledge to bear from the onset of a relationship, we arrive at innovative, actionable solutions.